Our resident Naturopath is Megan Restuccia. Megan is a fully qualified Naturopath and Nutritionist with a Bachelor's Degree in Health Science, with a solid background in skincare.
She incorporates a combination of:
– evidence-based, nutritional and traditional herbal medicine
– realistic modified eating plans
– recommended lifestyle changes
– flower essences
Clinical Wellness and Nutrition for Skin Consultations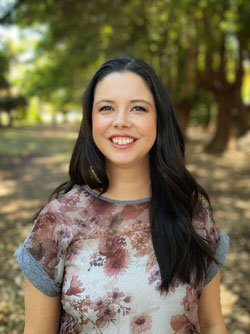 While her focus now is on clinical consultations, Megan previously worked as a Skin Clinician at Sanctuary Skin Care. It was Megan's 8 years working as a Skin Clinician that inspired her to explore her passion for helping people and understanding the causes of the many skin challenges her client's encountered.
After realising that many of her client's skin concerns were as a result of internal health issues she began to explore the benefits of natural medicine to be able to offer more for her skin clients.
With a grounded, and empathetic approach specifically tailored for you, she will help you address your underlying health challenges. Her experience in treating from within allows her to create wellness and nutrition programs that include a well-rounded approach.
Megan loves working in all areas of health and specialises in skin and digestive issues, mental health, family and women's health and chronic autoimmune conditions.
---
Book a Consultation
To book in for an online consultation with Megan:
Please visit her website meganrestuccia.com.au, or
Email Megan at [email protected]
---
About our skin treatments…
At Sanctuary Skin Care, during your first skin care appointment, we always do a complimentary skin consultation. In this consultation, we will discuss what you have written on your consultation form and we will take a good look at your skin under a diagnostic light. Then, we'll discuss your specific skin concerns and prescribe a full skin care regime, personalised just for you. We take this approach because we genuinely want to help people improve their skin. We have seen our products work to effectively combat many skin concerns. We believe that it is our job to assist you in combating your particular concerns. Whether you try just one, or all of the products recommended to you, or choose not you decide to follow our advice, it is completely up to you. We never want you to feel pressured to buy our products. At the end of the day, we are happy if you leave feeling nurtured, with better looking skin – and more informed about how you can treat your specific skin concerns. Because that's our job!
Book a Treatment or a Complimentary Skin Consultation
Book a treatment or your free skin consultation easily and conveniently online.
Beautiful presented salon, staff are educated, knowledgeable and professional, that offer great result driven treatments, wouldn't go anywhere else for my facials and home are products.
I had my 1.5 hours facial this morning feeling great and thoroughly enjoyed the experience.I would like to thanks to KATE 👏💯SHE got magical hands and fingersLooking forward to see you soon🙏💯Highly recommendedJillWould highly recommend.
My husband and I had an incredible prescription facial. We are feeling great and thoroughly enjoyed the experience. We now have a skin care regime tailored to our needs and can't wait to see the results.All the staff were extremely welcoming, genuinely helpful and pet friendly.Would highly recommend.